Larkspur Book Club: #1Beartown Review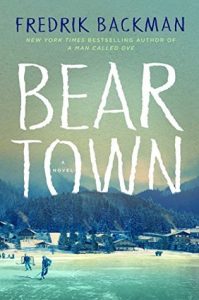 Review of Beartown by Fredrik  Backman
This review was prepared late 2017 after the book was discussed by my Larkspur Book Club to which I belong. It's an excellent read. The author writes a fascinating, character-driven story, phenomenally well structured, carefully researched, and generally easy to follow. You don't need to enjoy ice hockey to appreciate the story.
However, let me warn you, it delivers a sudden and unexpected punch midway when it switches the story to rape and how people of importance – in this case boy hockey players – can be protected from any wrongdoing. It is a dark account of human behavior. Expect a broad range of emotional reactions. Reach your own conclusions on the rights and wrongs of individual attitudes, and the distinction between justice and the desire for revenge. The story is highly provocative and raises a range of issues that will likely influence reader opinions well after the book has been returned to the shelf. It had me scurrying for statistics and here are some of what I found, primarily focused on the United States.
Roughly one in six women  are victims of sexual assault during their lifetime.
Estimates are that less than ten percent of rape cases are reported to authorities.
About a third of those reported are prosecuted.
Of those prosecuted, about one in five result in a conviction.
Studies estimate around one in ten youths, aged 14 to 21, have participated in some form of sexual violence.
These numbers are shocking, and individual situations can be worse. There are  reports of police failing to investigate complaints or, worse still, disbelieving the victim.
Thank you Mr. Backman for an unforgettable story, and provoking debate on a very important social issue.
---
---