50 percent of Bird Species are dimorphic (distinct differences in appearance between the sexes); usually it is the male that is better-looking, but there are exceptions.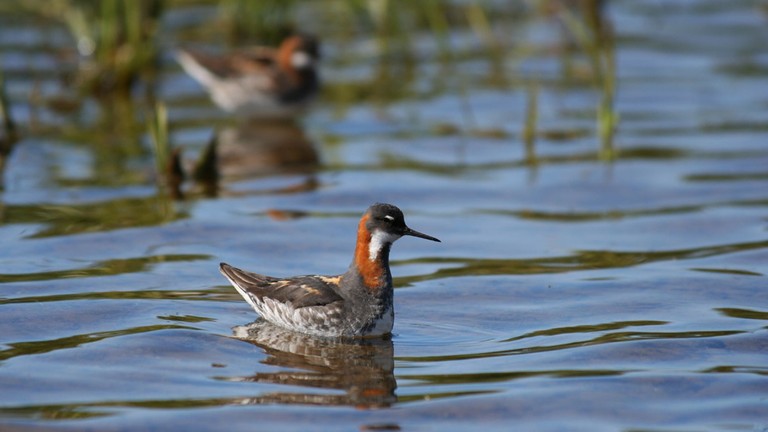 I am a red-necked phalarope, known as the peerie (small) duck in the Shetland Isles, and a species where the matriarch is the dominant sex.
We are a wading and swimming bird, but not a member of the duck family, and rarely are seen in Britain. We are on that country's list of endangered species. A few of us breed in the extreme north of mainland Scotland, the Shetland Isles and the Outer Hebrides, and sometimes we fly along the east coast, migrating between our Arctic breeding grounds and the Arabian Sea and tropical parts of the Atlantic and Pacific oceans, where we winter.  Long-distance migration is normal. We are known to fly across the Atlantic, reach the Caribbean, and travel on-wards to spend winter off the coasts of Peru and Ecuador. Our North American colleagues join us during winter as we feed on zooplankton and crustaceans brought to the surface by ocean currents.
We are a small, dainty bird (about 18cm/7 inches in length), belonging to the sandpiper family, with a black, needle-thin, straight beak, and float high on the water. Because much of our time is on the ocean, we have lobed toes (flaps that are similar to the webbing of ducks), that help us swim. During migration, we may rest and eat in shallow pools of water, where we spin our body in a small circle to form whirlpools that bring food to the water's surface
The greatest claim to fame for the red-necked phalarope is reversed dimorphism. My female partner is the dominant sex. It's she that has the bright plumage. During the breeding season, I remain drab-looking as she develops dark grey plumage on her back, with brown striping, and a spectacular chestnut neck and upper breast, a black face and white throat, plus a white wing stripe and a white spot above the eye. We both evolve into streaked gray plumage on our back during winter, white below, and a black ear patch.
She's a little larger than me and takes the lead in courtship. First, she flies around to find an attractive mate, whirring her wings and calling out. Once she selects her target, she swims around it, tries to persuade the male to follow her, and fiercely fights off other females for the privilege of mating with her chosen partner. Three to seven eggs are laid on the ground and the male adds vegetation to protect them. He is left to incubate the eggs and look after the young once they hatch. It's not unusual for her to go off and find another partner and repeat the mating process all over again.
Global estimates are around four million of us red-necked phalaropes, but we have suffered reductions in places like eastern Canada as well as in Britain. The origin of our name is unclear. It may be French, referring to another bird that also has a white patch on its face and possesses lobed feet (the coot).
---
---