Why Read Abandoned in Berlin? – A Message from Hilda.
This unique novel tells the story of my family who were upper middle class, living in the Wilmersdorf District of Berlin before the war. They had everything taken away from them by 1936 under the direction of a Nazi Guardianship Court who supposedly controlled the well-being of my mother who was a teenager at the time. Since her father had died and her mother could not be legally trusted to look after her, the Court was in charge of her welfare. Several years previously she had inherited a significant portion of the family property under German inheritance rules, and I believe the Nazis were intent on taking ownership of the building.
This is the story of how my family lost their livelihood to the Nazis, as revealed to me from materials I found in my garage and legal and real estate documents provided by the German authorities. It describes what happened to my family afterwards, both during the war and subsequently when the fighting was over.

As I hear of new experiences from World War II and Hitler's treatment of the Jews, I find it hard to believe that one man could have done so much harm. My story illustrates how the German government, even after the war, treated Jews unfairly, and it's important to "never forget".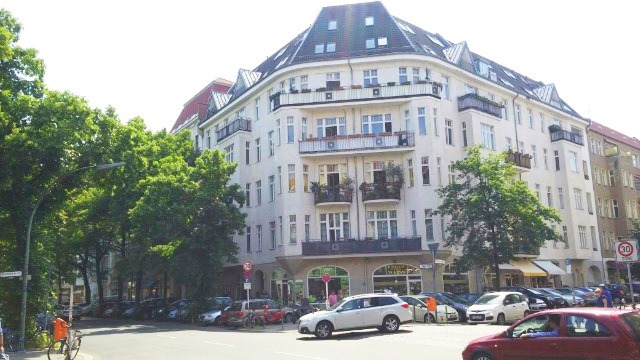 (This is apartment block I found June 2016, that suffered little damage during WW II)
---
Discussion Topics
TOPIC 1 FOR ABANDONED IN BERLIN: WAS JUSTICE SERVED?
You will reach your own conclusions as you read the book. However, evidence collected indicates that the Nazi Guardianship Court, from late 1933 to 1936, increasingly controlled the financing of the apartments under the disguise of taking care of an under-age (less than 21year-old) daughter. By late 1935 a conspiracy appears to have existed where new loans would not be approved, the original mortgage was recalled by the lender and a Nazi-sympathizer was found as a potential purchaser.
The German system of justice aligned quickly with Nazi goals after Hitler assumed power, following the March 1933 elections. During April 1933, Hitler passed one of his earliest anti-Semitic laws, purging Jewish and Socialist judges, lawyers and other court officers from their profession.
Restitution of the family's property was considered using new West German laws passed in the early 1950s, when the courts treated any exchange of property that occurred for a reasonable price and where the seller had access to the funds, as having been legitimate.
But if you think beyond the facts that are described in Abandoned in Berlin, and are willing to consider alternative scenarios, a different explanation might emerge? You are invited to debate the alternative story speculated in the attached.
TOPIC 2 FOR ABANDONED IN BERLIN: DISCOVERING AND REMEMBERING YOUR ANCESTRY
It was never supposed to be written, but as the story unfolded it became important to record what happened for future reference. It might appear like a memoir but it is a biography of Hilda's mother from her Berlin birth in 1918 to arriving in San Francisco from Shanghai 29 years later. Losing her Berlin home and escaping to Vienna during late 1937, and then onwards to Shanghai in early 1941, saved her life.
What follows are experiences from our research and why we believe it was important to narrate what we discovered and not to adorn the characters with personalities and behaviors that we did not know about. Hilda and I apologize if the book could have been more exciting but we think it's important to remember what really happened and be certain that it never happens again.
Our experiences may give encouragement to others who might be considering researching their past and may also keep alive the memories of those terrible deeds committed by the Nazis against the Jewish people.
TOPIC 3 FOR ABANDONED IN BERLIN: LIFE IN SHANGHAI
Although not part of Abandoned in Berlin, the reader may be curious to know what happened to Hilda's parents after they arrived in Shanghai during early 1941. Discussion material is provided below that gives a sense of their life in Shanghai before sailing to freedom and San Francisco in the summer of 1947. These extracts are based on Hilda's mother's account of life in the city, provided by her during a January 1995 interview retained by the Holocaust Museum.
Abandoned in Berlin Topic 3