50 percent of Bird Species are dimorphic (distinct differences in appearance between the sexes); usually it is the male that is better-looking, but there are exceptions.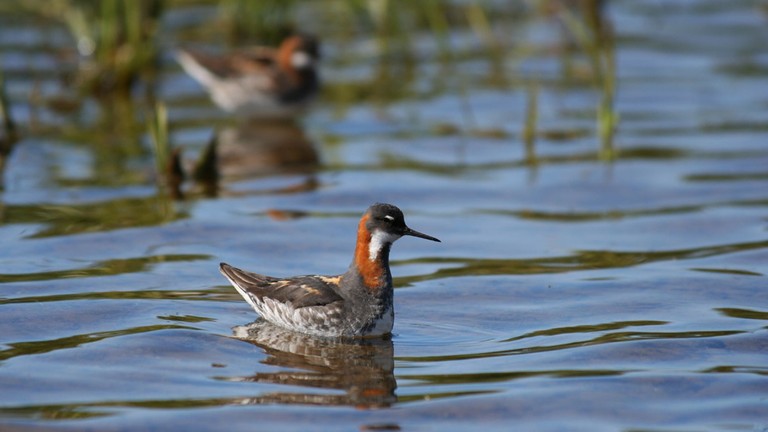 A smallish dainty bird (7in/18cm long), called a red-necked phalarope, attracted a lot of discussion during my time at Spurn Point Bird Observatory in the early 1960s, where the species was a very infrequent visitor.  Although classified as a shorebird, it swims rather than wades, has a longer neck than most waders and spins characteristically when feeding in shallow water. My British bird book described it as "a local summer resident in Scotland and Ireland; otherwise scarce winter visitor". It also breeds in Iceland, the Faroes, and then across Norway, Finland, North Russia and east through Siberia to Alaska, and thereafter, across Canada to Greenland.
It is unusual that during the breeding season the female selects the mate,  delegates incubation to the male,  and the male is left behind to take care of the chicks. The female departs as soon as the eggs are laid to look for another partner. The female is the one that is brightly plumaged, with a brown and black mottled back, rusty underparts and neck, white cheek patch and yellow bill. She is also a little larger than her partner. The male is a drab version of the female.
I was told that this was what was called reversed sexual dimorphism, where the female is more attractive than the male, and her habit of looking for new mates was termed serial polyandry.  The birds return to their breeding grounds in May, but the female may depart as early as June after she has laid her first clutch to find a new mate,  and the male is left behind until July/August to take care of the chicks.  The bird is primarily an Arctic resident but for the winter, will migrate long distances. Those crossing Britain demonstrate divergent migration where some will fly to the Arabian Sea and others will travel in the opposite direction, across the Atlantic, down the east coast of North America to the West Indies, and then overland to winter for 5 months or so in the Pacific Ocean off the coasts of Ecuador and Galapagos Islands. The latter are joined by North American birds.
Estimates are that there are around four million red-necked phalaropes worldwide, but that the species has suffered population reductions in places like eastern Canada as well as in Britain. The origin of their name is unclear; it may be French, referring to another bird that also has a white patch on its face and possesses lobed feet to assist with swimming (the coot). I have never seen a red-necked phalarope in Britain but have encountered several in California. They pass this way during their spring and fall migrations, and birds maybe seen frequenting brackish coastal  marshy areas and even occasionally inland on freshwater bodies of water. Out on the open ocean, flocks can be seen from boats. A strikingly beautiful bird and strong-willed females.
---
---