JOHN R. CAMMIDGE, AN AUTHOR WRITING STORIES OF HISTORY, PEOPLE AND FIRSTHAND EXPERIENCES.
---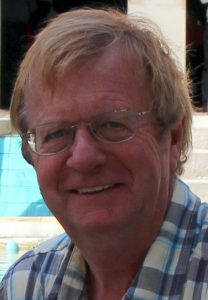 MESSAGE ON BEHALF OF THE AUTHOR
Thank you for visiting this author's website.  John Cammidge is a former Human Resources executive and life-long birdwatcher who retired from the University of California several years ago, and resides in Marin County, north of San Francisco. 
He is an author who crafts both historical fiction based on his personal experiences and biographical true stories, describing life in Europe during the second half of the last century.  He combines his experience with people and creative skills to write fascinating and real-life literary novels that inform, provoke and  educate. 
So far there are three novels:
Unplanned: a World War II family mystery story, set in England, illustrating the human consequences of military conflict.  A second edition of this novel (to be re-titled Unplanned), will be released during November 2020.


Abandoned in Berlin: a Holocaust (and true) story set in Berlin before and after World War II, examining Germany's attitude towards its Jewish population.  A second generation Holocaust survivor from Novato, California discovers her mother's former block of apartments in Berlin and wants to know how it was seized by the Nazis and why it was never returned to her family once the fighting was over.


She Wore a Yellow Dress: (to be published February 2021).  A coming-of-age story from the 1960s and 1970s, set in Britain, and inspired by the author's own upbringing.  It includes his passion for bird watching and features the many difficult challenges that he, his spouse and the British public faced during those difficult and transformational years.


Finally, because of his passion for birds, the Author's Blog is being used to describe species of bird that the author is familiar with, and their idiosyncrasies.