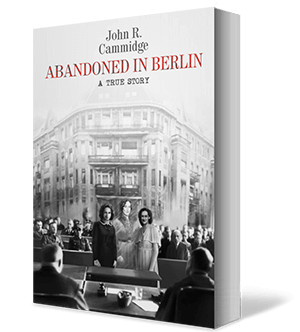 Abandoned in Berlin, was published as a novella during September 2018, and I am happy to give presentations at accessible bookstores and libraries, organizations interested in the Holocaust, be interviewed on radio and TV, and for articles in newspapers. Please contact me at my email address if you have an interest. Hilda might also participate if invited. Both of us live a few miles north of San Francisco, California.
---
PRESS RELEASE FOR "ABANDONED IN BERLIN"
DOWNLOAD THE PRESS RELEASE HERE
---
Extract From a Review Letter to Hilda (Abandoned in Berlin),
July 2020

I wanted you to know that it took me a while, but I just got around to reading Abandoned in Berlin. It was a profound experience for me, knowing you and your mother my entire life. What a story. I was unaware of your Mom's early years, her family, her Berlin legacy and property, or of her exile in Vienna.

What a convoluted history of subterfuge and shady dealings. It's a very interesting peek into Nazi-engineered Jewish wealth-seizing machinations, accompanied with a heavy dose of subsequent cover-up. Your dedication to the arduous and lengthy detective work is extraordinary. I really congratulate you.

Most importantly, your Mom and your Grandmother would be very proud of you for your intensive efforts to get to the truth and to try and right a wrong. I'm proud of you!


Love and kisses,
---
Read a review of "Abandoned in Berlin" from Booktrib here.

---