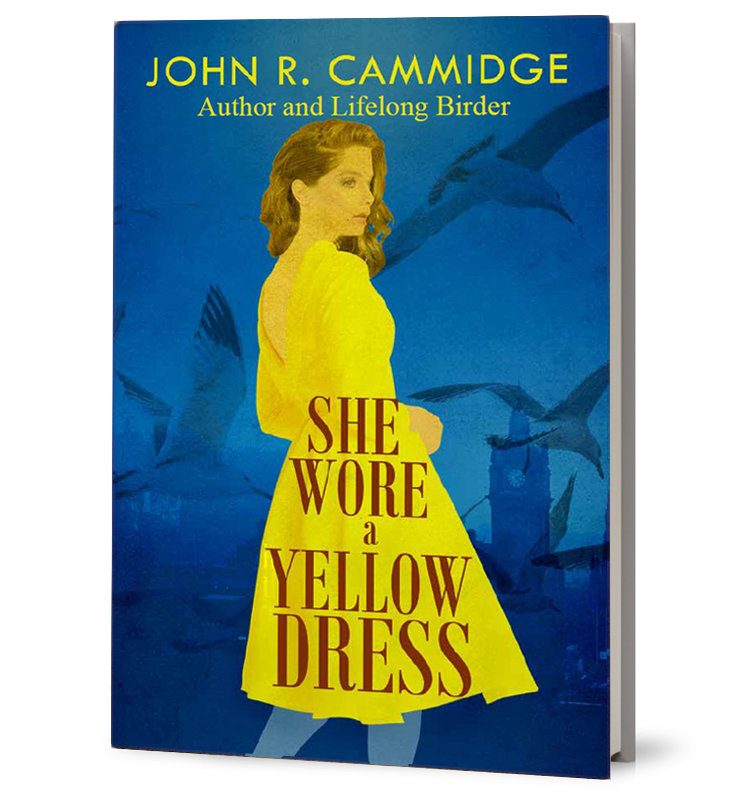 She Wore a Yellow Dress: A Fictionalized Autobiography of a young couple's love for each other and the challenges they face in Britain during the period 1965 to 1975.  If you are looking for a love story, a piece of British history, have an interest in birds or want guidance on careers, this could be your book.
The novel chronicles 10 years in the life of John and Jean-Louise , beginning on Guy Fawkes' Bonfire Night 5 November 1965, at a place near Hull in Yorkshire, England.  John is an avid birdwatcher and has grown up very independent in a rural community near York, with few social graces.  Jean-Louise in contrast  comes from an urban background in Lancashire, is very close to her parents, has an interest in the arts and literature, and hopes to begin a career in fashion.  She maintains a very different political outlook to the one inherited by John.  Surprisingly the two adapt to each other and marry during August 1967.
Following graduation, John joins Ford of Britain as a graduate trainee and enters the firm's industrial relations function, while studying for an advanced qualification with the British Institute of Personnel Management.  Jean-Louise's mother becomes seriously ill, undermining her daughter's ability to pursue a fashion career because of the absence of employment protection for women; instead, Jean Louise trains for and becomes a teacher.
John continues his bird watching and each chapter introduces the reader to at least one species of bird that he relates to his human experiences and behavior.  Whichever bird is chosen, at the end of the chapter, there is a brief summary of the bird's appearance and habitat in case the reader is interested.
The "back story" to the novel is as fascinating as the social and career progress of John and Jean-Louise as they live together, and it provides insight into the changes and disruptions that swept across Britain during this period.
In Ford of Britain there was an unsuccessful initiative to improve relationships with the hourly-paid workforce, losing momentum in part because of the sewing machinists' Equal Pay dispute in 1968 (in which the author was involved) and ongoing trade union demands for pay parity with workers employed elsewhere in the British-owned motor industry.
The Ford of Europe organization arrived and vehicles were designed to be manufactured and sold outside of the country, and work moved overseas and away from Dagenham and Halewood.  Car models assembled at the time and Ford of Britain's car production figures during this period are given below.
Nationally there was an economic recession, the British pound was devalued, new decimal coinage was introduced, governments kept changing, trade unions became increasingly militant in opposition to government actions interfering with unfettered collective bargaining, Britain finally joined the European Common Market in January 1973, annual price inflation rose to 25 percent and the 3-day working week  was imposed on the nation at the start of 1974 because of the miners' pay dispute.
COMING LATE-2020
FORD OF BRITAIN
The  content of She Wore a Yellow Dress is not intended to be an exposition on the company. It was a turbulent time in Industrial Relations and there was always hope that relationships could improve between the company and its workforce.  Soon, Ford of Europe took charge of manufacturing and production began to move overseas where output was more reliable, product quality greater, and costs could compete with Britain.  The  numbers below show how Ford of Britain's assembly numbers declined during the years covered by this book. 
Ford OF Britain Annual Car Production
| MODEL | 1966  | 1968 | 1971 | 1975 |
| --- | --- | --- | --- | --- |
| TOTALS | 465,200 | 486,500 | 368,500 | 333, 550 |
| Ford Anglia | 111,500  | 0 | 0 | 0 |
| Ford Escort | 0 | 161,700 | 128,450 | 156,400 |
| Ford Corsair | 58,400 | 35,250 | 0 | 0 |
| Ford Cortina | 242, 300 | 261,700 | 182,200 | 140,350 |
| Ford Capri | 0 | 3,100 | 41,100 | 21,250 |
| Ford Granada/Consul | 0 | 0 | 0 | 15,550 |
| Ford Zephyr/Zodiac | 53,000 | 24,750 | 16,750 | 0 |
Note: For the five years after 1975, annual car production in Britain averaged 378, 200 units; for the three years before 1966, production averaged 511,750.
Ford Britain Car Model Line Up 1966-1975
ANGLIA                          Succeeded  in 1968 by the Ford Escort 1968-2003
CORSAIR                       Succeeded in 1970 by the Ford Capri 1968-1986
CORTINA                       Mark I launched 1962 and last Mark V built July 1982
ZEPHYR/ZODIAC       Mark IV launched 1966; succeeded by Consul/Granada 1972