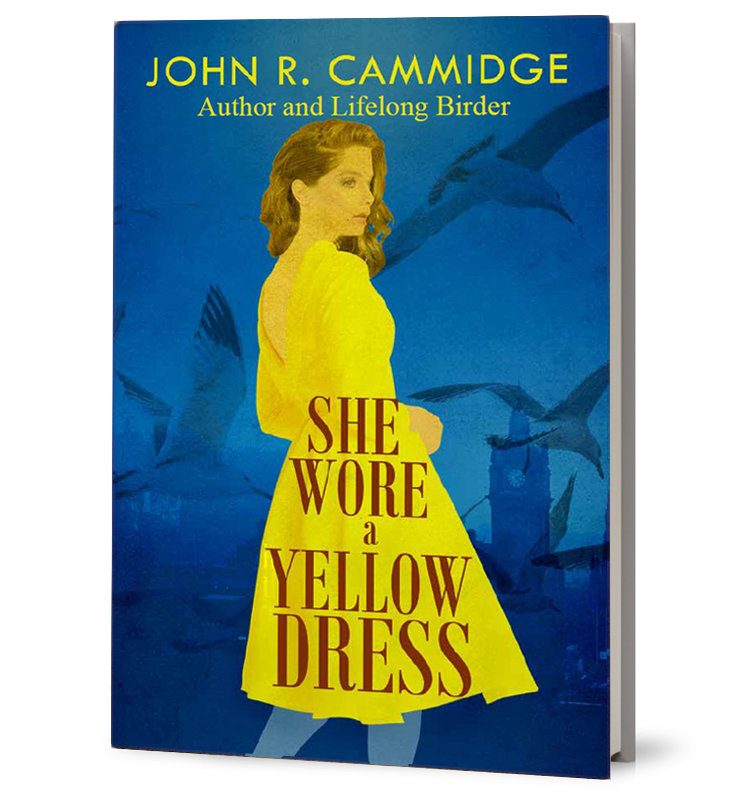 (see the bird profiles at the end of each chapter)
She Wore a Yellow Dress:
Five years in the writing, this is an account of two young people (John and Jean-Louise) who come from very different backgrounds but find love and affection together despite jealousies and self-interest. They must cope with the social chaos created in Britain during the 1960s and 70s by governments, trade unions and businesses. John is an avid bird watcher.
As an  awkward Yorkshire farm boy (whose origins are described in the separate novel Unplanned, a World War 11 family mystery story), John appears to have few prospects when he meets a sophisticated town girl from Manchester on Bonfire Night (5th November) in 1965, during their final undergraduate year at Hull University. The relationship develops and this coming-of-age story goes well beyond the wedding where the curtain often drops in other stories.
As a young graduate, John is preoccupied with building a career at Ford of Britain whereas Jean-Louise chooses teaching and expects to receive John's dedicated attention, spontaneous affection and unquestioning loyalty because of the sacrifices she has made for him.  When that does not happen, she looks elsewhere.
The challenges of cohabitation extend well beyond their domestic disagreements thanks to the national upheavals that take place in Britain during this period.  The couple struggles to adjust financially and socially, not helped by their different political values.  Examples of the challenges include:
Consequences of UK general elections 1966, 1970, 2/1974 and 10/1974
Absence of women's rights that involve John in the 1968 Ford Dagenham sewing machinists' strike, and other forms of  public discrimination that the couple face
Efforts to legally control trade unions through In Place of Strife and the Tories Industrial Relations Act, 1971
Conversion to national decimal coinage in February 1971
Britain joining the European Common Market, January 1973
The country-wide 3-day working week during the 1Q1974
Throughout the story, John displays his passion for bird watching and Jean-Louise encourages the hobby during the relationship.  As the years go by, John realizes that, as well as serendipity and the help from Jean-Louise and others, his life has been strongly influenced by his hobby of birding.  At the end of each chapter there is an illustration of a featured bird that reflects the theme of that chapter and can illustrate human behavior and character.
A unique blend of British history, ornithology, success at work, gender discrimination, the challenges of home life, all converted into a single compelling narrative.
(And if you have an interest in German history, Abandoned in Berlin tells the true story of an 11 year-old Jewish girl inheriting three eighths of a huge apartment block in Wilmersdorf, Berlin in 1930 on the death of her father, and having it taken away from her by a Guardianship Court in 1936. Hilda, her only child, tries to discover the truth of what happened after a visit to Berlin during 2016.)
---
Buy the Book
To order She Wore A Yellow Dress, please visit any of the retailer sites below:
She Wore a Yellow Dress is also available on Apple Books
---
Content for She Wore a Yellow Dress comes  from the author's experience at Ford of Britain from August 1966 to the end of the story.  However, it must be stressed that the novel is not intended to be an exposition on the company.  The author thoroughly enjoyed his time at Ford, learned a great deal, and used that knowledge to launch his career, which eventually brought him to the United States.  It was a turbulent period for Ford's industrial relations and there was always hope that the company's relationships with its workforce and trade unions would improve.  The novel illustrates what actually happened.
Ford of Europe, founded in 1967, was established to take charge of all of Ford's European businesses and have its subsidiaries work together rather that compete with one another.  However, as company-wide stoppages affected Ford of Britain during 1968, 1969, 1971 and 1974, manufacturing and vehicle assembly began to shift overseas to where output was more reliable, product quality greater, and costs were competitive with Britain.  Left-hand driving in Britain versus the rest of Europe  (except Sweden before September 1967) appeared not to present an obstacle to this shift. The  numbers below show how Ford of Britain's assembly numbers declined during the years represented by this book. Admittedly there was increasing competition from imports, especially Japan, a country that also  drove on the left side of the road. As with the UK, the practice dated back to the Edu period (1603-1867) when the Samurai ruled and, as with British swordsmen, needed to have their right hand close to their opponent for attack.
Ford OF Britain Annual Car Production
| MODEL | 1966  | 1968 | 1971 | 1975 |
| --- | --- | --- | --- | --- |
| Ford Anglia | 111,500  | 0 | 0 | 0 |
| Ford Escort | 0 | 161,700 | 128,450 | 156,400 |
| Ford Corsair | 58,400 | 35,250 | 0 | 0 |
| Ford Cortina | 242, 300 | 261,700 | 182,200 | 140,350 |
| Ford Capri | 0 | 3,100 | 41,100 | 21,250 |
| Ford Granada/Consul | 0 | 0 | 0 | 15,550 |
| Ford Zephyr/Zodiac | 53,000 | 24,750 | 16,750 | 0 |
| TOTALS | 465,200 | 486,500 | 368,500 | 333, 550 |
Note: For the five years after 1975, annual car production in Britain averaged 378, 200 units; for the three years before 1966, production averaged 511,750.
Ford Britain Car Model Line Up 1966-1975
The list of models below are those that were being assembled by Ford of Britain when the author joined the company, plus the Capri.  They were the last generation of vehicles to be principally assembled in Britain.
ANGLIA                          Introduced September 1959 and  succeeded  in 1968 by the Ford Escort 1968-2003
CORSAIR                       Introduced October 1963 and succeeded in 1970 by the Mark 111 Cortina
CAPRI                             Introduced November 1968 as Ford's performance and sporting representative; ended assembly 1986

CORTINA                       Mark I launched 1962 and the last Mark V built July 1982
ZEPHYR/ZODIAC       Mark IV launched 1966; succeeded by the Consul/Granada during 1972