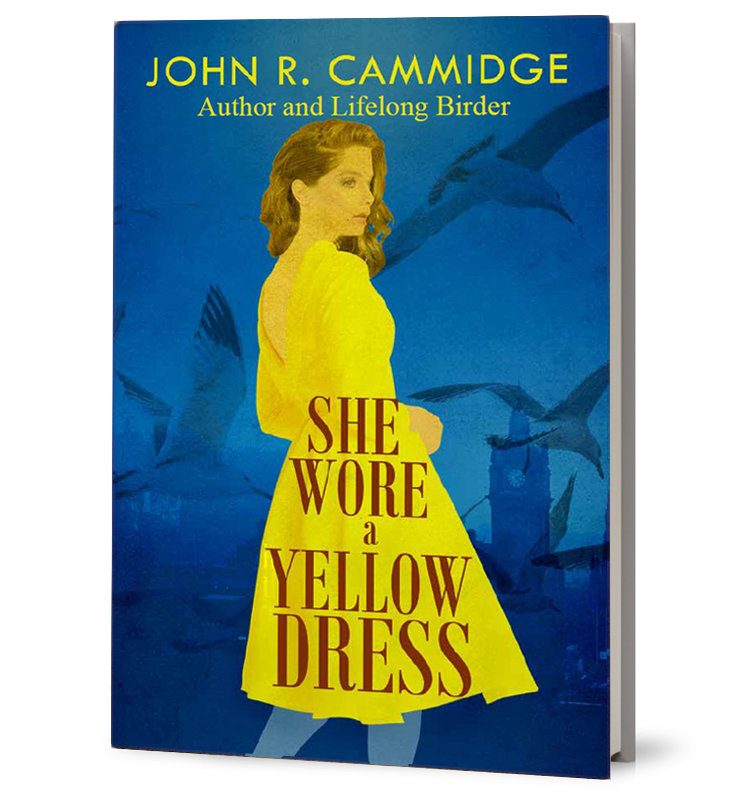 She Wore a Yellow Dress: A Young Couple Survives Britain's Chaotic Years of 1965 to 1975
About to be published, She Wore a Yellow Dress, chronicles 10 years of the life together of John and Jean Louise, beginning on Bonfire Night, 5 November 1965, near Hull in Yorkshire, England. Both are third year undergraduates attending the local university. The story is a coming-of-age period piece, addressing the defeat of adversity, combined with jealousy, women's rights, male dating behavior, determination and birdwatching. Birding is John's lifelong hobby and each chapter introduces at least one species that adds metaphor, learning and substance to the development of John. Much of this is based on John's frequent visits to Spurn Point Bird Observatory during the 1960s and his membership of the Royal Society for the Protection of Birds (RSPB).
The back story is the chaos and uncertainty of life in Britain during these years. The country is in economic recession, the pound is devalued, trade unions are militant and reject legal interventions, unofficial work stoppages flourish, national governments change, a new currency is introduced, oil prices surge due to conflicts in the Middle East, Britain joins the Common Market after twice being declined, and the three-day working week is imposed on the country at the start of 1974.
Throughout these events the young couple survive disruption in public services, uncertain financial conditions, annual inflation that rises over 25 percent, shortages in food supplies caused by work stoppages and membership of the Common Market, and the arrival of their first child during the three-day working week. Jean Louise works as a teacher and John joins Ford Motor Company Ltd. in Essex where he begins a career in Industrial Relations. He finds himself involved in the sewing machinists equal pay dispute, frequent protracted wage disputes and the arrival of Ford of Europe.
We accompany the couple on annual holidays including taking Jean Louise's father back to Norway where he fought the Nazis during the spring of 1940. The end of the novel is narrated by Jean Louise when we are told that the family has moved to California as part of the British brain drain following the "Winter of Discontent". If you wish to be kept informed of the publication status for She Wore a Yellow Dress, please register for future messages on Mailchimp.
COMING MID-2020
FORD OF BRITAIN
The  content of She Wore a Yellow Dress is not intended to be an exposition on the company. It was a turbulent time in Industrial Relations and a traumatic decade of failed efforts to improve relationships with its workforce. Ford of Europe took over its leadership and soon we were assembling cars that could be built in other countries. Who could do it cheaper, quicker, and with reliable quality? The following numbers show how Ford of Britain's production numbers declined during the period covered by this book. 
Ford OF Britain Annual Car Production
| MODEL | 1966  | 1968 | 1971 | 1975 |
| --- | --- | --- | --- | --- |
| TOTALS | 465,200 | 486,500 | 368,500 | 333, 550 |
| Ford Anglia | 111,500  | 0 | 0 | 0 |
| Ford Escort | 0 | 161,700 | 128,450 | 156,400 |
| Ford Corsair | 58,400 | 35,250 | 0 | 0 |
| Ford Cortina | 242, 300 | 261,700 | 182,200 | 140,350 |
| Ford Capri | 0 | 3,100 | 41,100 | 21,250 |
| Ford Granada/Consul | 0 | 0 | 0 | 15,550 |
| Ford Zephyr/Zodiac | 53,000 | 24,750 | 16,750 | 0 |
Note: For the five years after 1975, annual car production in Britain averaged 378, 200 units; for the three years before 1966, production averaged 511,750.
Ford Britain Car Model Line Up 1966-1975
ANGLIA                          Succeeded  in 1968 by the Ford Escort 1968-2003
CORSAIR                       Succeeded in 1970 by the Ford Capri 1968-1986
CORTINA                       Mark I launched 1962 and last Mark V built July 1982
ZEPHYR/ZODIAC       Mark IV launched 1966; succeeded by Consul/Granada 1972