Which bird is called A Woosell (ouzel) Cocke by William Shakespeare in A Midsummer Night's Dream, or as a colly (calling) bird on the Fourth Day of Christmas, or announced in a farewell song published in 1926, or was rumored to die if it ate pomegranates. Today, it is the national bird of Sweden, has as its cousin, the American Robin, and 24 of them feature in a nursery rhyme.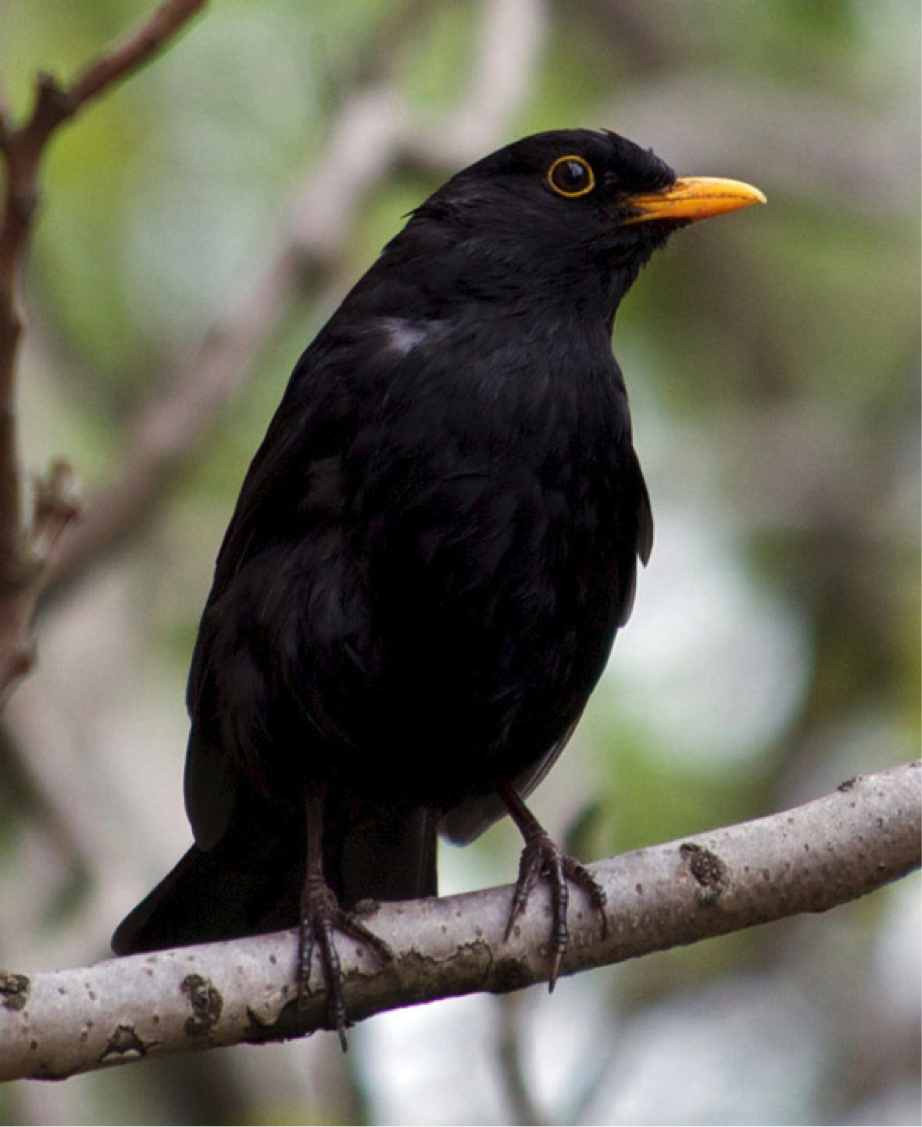 I first identified the blackbird in my early years when it was one of the top three commonest  species in Britain, along with the starling and the house sparrow. At the time, an estimated 6 million pairs were supposed to be resident in the country whereas today it has has slipped to fifth position, with 5 million pairs, conceding top place to the wren with an estimated 11 million couples, followed by the robin (7.4 million), house sparrow (5.3 million) and wood pigeon (5.2 million). 
These were the first birds whose eggs I collected as a child. They nested in hedgerows at a height I could reach and often could be seen coming and going as they built there nest. I simply waited for them to lay their eggs. It was easy to distinguish the sexes. The male has a glossy black plumage, an orange-yellow bill and a yellow eye-ring, whereas the female is a duller sooty brown, with a yellowish bill and mottling on her breast. The male also has exceptional singing abilities, with melodious low-pitched warble sounds, often sung from an elevated perch. These distinctions between the two sexes  are an example of sexual dimorphism, where the male is dominant for breeding purposes.  Both sexes emit a persistent "chick-chick" alarm call if they are threatened; for example, when I was nearing their nest.
These birds were visible to me all year round. Some would move short distances locally but most stayed close to their breeding area. There are exceptions. I was introduced to the catching and ringing of blackbirds to monitor their movement . A few travelled as far as Ireland, France, the Netherlands and Denmark but most stayed within a  20 to 30 mile radius of their breeding territory. Further evidence of their migration came to me during a trip to Spurn Point Bird Observatory in April 1961 when I counted 40 birds traveling northwards.
Another feature exemplified by blackbirds is albinism. On rare occasions birds could be seen with patches of white feathers on their plumage, and  from time to time, totally white blackbirds are reported. Lack of melanin pigment is supposed to cause this condition and it is accompanied with pink eyes. Some 50 or so species are recorded in Britain as having this weakness  but blackbirds account for 40 percent of cases. House sparrows come next, followed by jackdaws and the British carrion crow. 
Once I moved to California, I lost touch with these sociable birds. They have not made it to the New World except for the rare vagrant and those brought in to live a life of captivity in aviaries.  Instead, there are five species of New World blackbirds (red-winged, rusty, brewer's, yellow-headed and tricolored), unrelated to the European variety. Collectively, their population is several hundred million, and compares with other populous North American birds such as the mourning dove (est. 350 million), American robin (est. 370 million), chipping sparrow (est. 230 million) and dark-eyed junco (est. 200 million). Albinism also occurs among North American specie of bird, with the robin having most records, followed by the house sparrow and American crow.
---
---