Which bird is called A Woosell (ouzel) Cocke by William Shakespeare in A Midsummer Night's Dream, or as a colly (calling) bird on the Fourth Day of Christmas, or announced in a farewell song published in 1926, or was rumored to die if it ate pomegranates. Today, it is the national bird of Sweden, has as its cousin, the American Robin, and 24 of them feature in a nursery rhyme.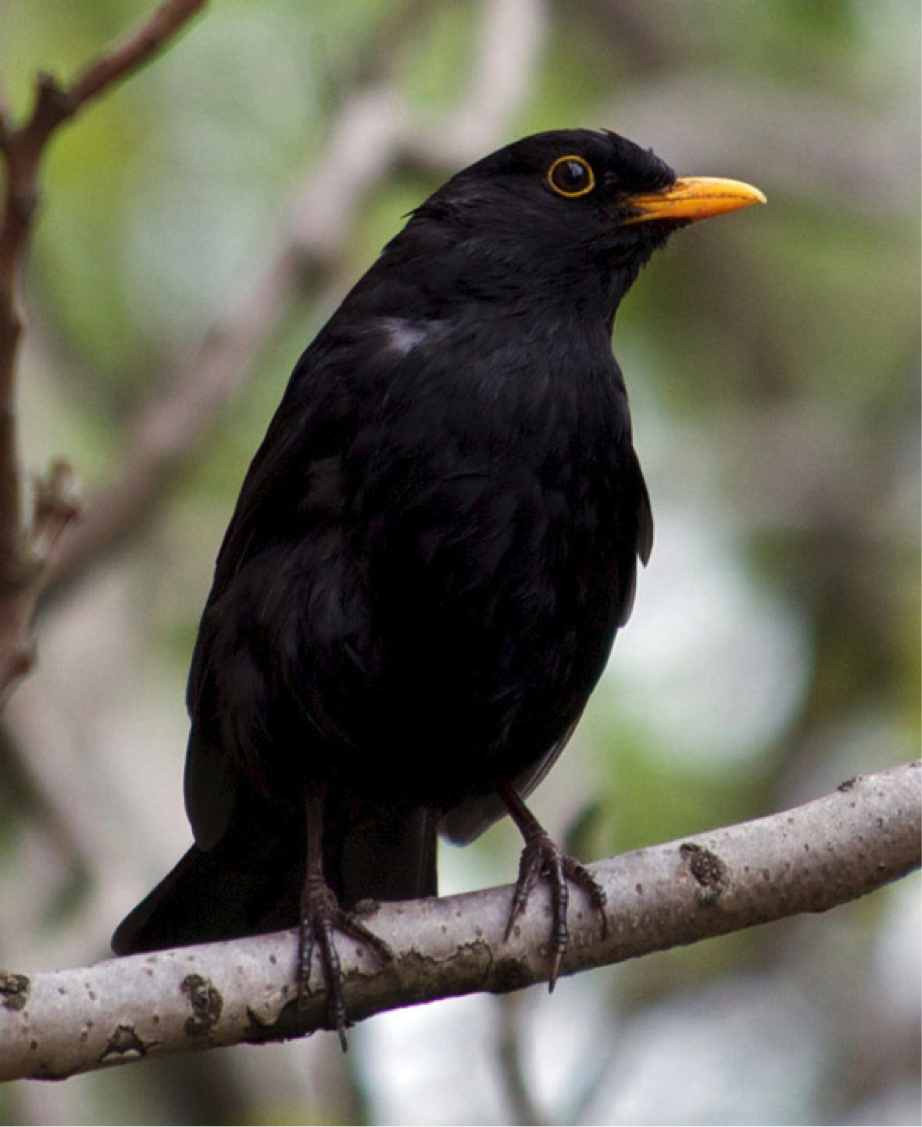 We are members of the Thrush family and love our life in Britain, so much so that 6 million pairs stay close to their breeding grounds nationwide throughout the year, and are joined in winter by fellow blackbirds from elsewhere in Europe. Across Europe, the blackbird population is estimated at 38 to 55 million pairs, and while most are sedentary, some in the north migrate south for the winter, and a few reach as far away as North Africa and tropical parts of Asia. You don't find us in North America although there are five other species of blackbird present, including the red-winged, Brewer's and Rusty kinds. Attempts to establish the European blackbird during the 19th century in Oregon and New York both failed.
We are what you call dimorphic. That is the male and female look different. I have a glossy black plumage, an orange-yellow bill and a yellow eye-ring, whereas my female friend is sooty brown, has a dull yellowish beak and mottling on her breast. I am also distinguished by my singing abilities which are said to produce some of the most beautiful and best-loved melodies of British birds. It is usually a varied and sweet-sounding low-pitched fluted warble that I relay from an elevated perch. You hear us often in the background during outdoor scenes featured in movies and the TV. We are noisy and tireless during Spring but much quieter in Winter.  Our favorite is to sing after the rain.
For breeding purposes, we strive to stay monogamous, at least while both of us are still alive. My wife does most of the work; she is responsible for nest-building and incubating the eggs, but we work together to feed our brood. For food, we enjoy insects, worms and berries.
As for habitat, we are not picky. You can find us virtually anywhere, across the countryside and in most people's gardens, although we can be shy around humans. We do stay away from upland areas where our relative, the ring ouzel breeds. Both sexes look like us except for being a little smaller and the male has a bold white crescent across his throat (a gorget).  Ouzels are migrants and residents in Britain from March to November, preferring upland moors and rocky crags.  Only around 6000 pairs breed here, a dramatic reduction over the past few decades, due to afforestation and changes in grassland.  They are on the "red" conservation list in Britain, whereas we are "green".  Curiously they have retained their Shakespeare name of ouzel.
---
---