Which British Bird used to peck the tin foil off milk bottles to get to the cream after they were delivered by the milkman?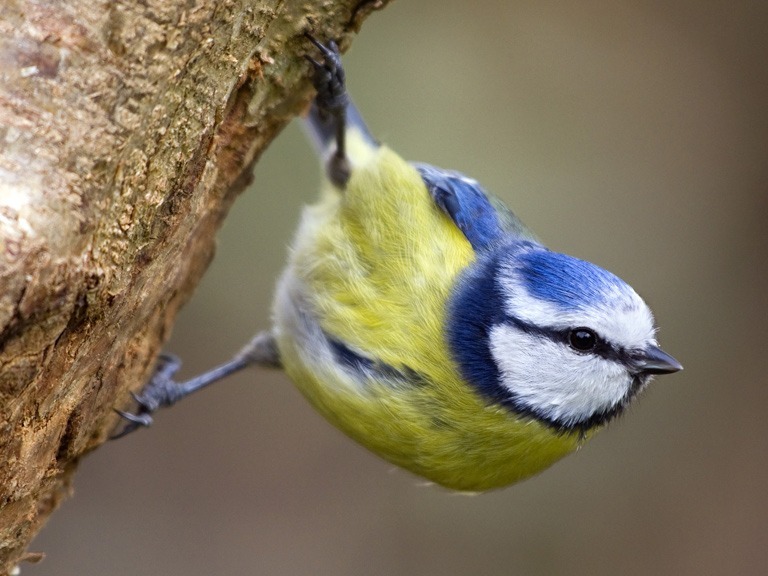 Growing up with blue tits on the farm is one of my earliest memories. These are feisty little birds (4.5 in/12 cm in length), noisy, sociable, inquisitive and lovable.  The moment I threw out bacon rind or hung up monkey nuts (peanuts in their shells), they would be there. It was as if they were watching, waiting and knew what was about to happen. They came so close to me that I could imagine they were tame. The word "tit" is derived from the Old Norse word meaning tiny.
Blue tits are amongst the most intelligent birds and only the covid (crow) and parrot families exceed them. Blue tits have the knack for knowing what you are doing. Individual birds develop behaviors and others learn from them. Back in 1921 , the first case of a blue tit opening  the caps off milk bottles left on people's doorsteps was reported. By 1949, this practice was widespread across the country – an example of social learning. At home, we took our milk directly from the cows, but at elementary school, I watched as blue tits attacked the tin foil on the tops of school milk to get at the cream below. Where there were different colored milk tops for different types of milk, the birds seemed to know which color offered the creamiest milk.
The bird also has a sense of smell. Studies have shown  that blue tits feeding their chicks will not enter their nest if it has been laced with the scent of a weasel (an aggressive predator that looks like a ferret). They have also been shown to solve puzzles that enable them to reach their food. Additionally, where medical plants are available, they will select vegetation like lavender, mint or curry leaves to line their nests to sterilize them and make the nest safer for raising chicks. The genius of birds!
British blue tits are strictly resident, seldom moving from where they were hatched. Their population has increased since my childhood, and presently there are an estimated 4 million breeding pairs in Britain. In winter, they are joined by visiting blue tits from the Continent, and the population rises to around 15 million. It is noteworthy that during my visits to Spurn Point Bird Observatory I never once recorded the sighting of a blue tit. The species is currently on Britain's  green list of endangered birds, that is "of least concern".
They are beautiful birds; each has a cobalt blue crown (edged in white), wings and tail, a greenish back and yellowish underparts. There is a black band running through the eyes of the bird and round its nape. Some of their British cousins are almost as pretty – such as the great tit, coal tit and long-tailed tit.
When I moved to California , I was no longer able to watch these birds. You do not find them in North America. However, what you do find are close relatives such as titmice and chickadees. I am used to spotting the occasional chestnut-backed chickadee and pairs of titmice in my back yard, both very charming birds, with lively demeanors, and talkative. Observing them brings back memories of the lovable blue tits I enjoyed watching around my first home.
---
---