Which British Bird used to peck the tin foil off milk bottles to get to the cream after they were delivered by the milkman?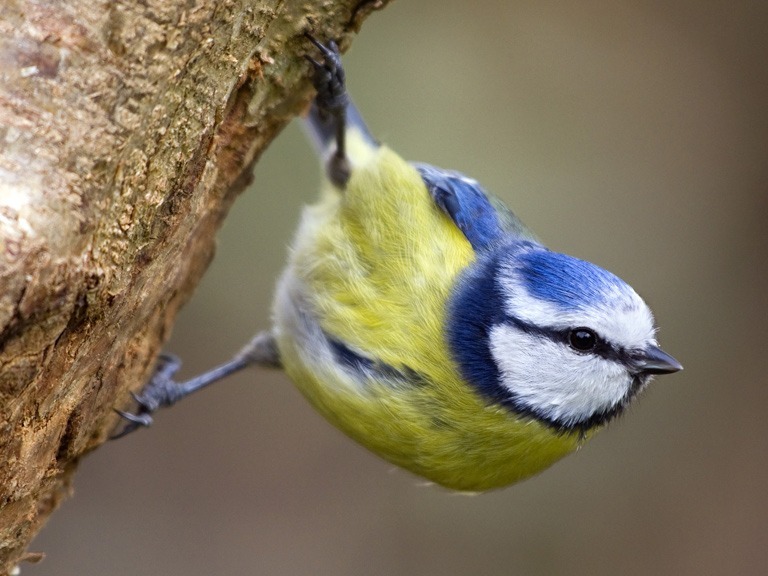 I am the blue tit, with the word "tit" derived from the Old Norse word meaning tiny. We are common in Britain and most parts of Europe. Our appearance is as a small, very active and dainty bird (12cm/4.5 inches in length), often hanging upside down, and we love to roam around gardens, hedgerows, parkland and deciduous woodland.
You recognize us by our blue and yellow coloring; we have sky-blue and white feathers on our head, a dark blue line passing through our eyes, an underneath of light yellow, a back of greenish-blue with grey, and dark blue wing and tail feathers. There is a short, thin beak to eat seeds, nuts, insects and caterpillars. Our preference is for insects and spiders but we'll eat seeds and peanuts given to us in bird feeders. In the olden days, our specialty was drinking cream off the top of milk left in bottles at each home by the milkman. We pecked through the foil tops unless the owner collected the bottles first.  
It's normal for a blue tit to stay year-round near our breeding territory, and while we can be socially monogamous, we break up with our partner if they turn up late for the breeding season. In winter we sometimes move small distances for better food supplies, but rarely beyond 12 miles (20km). We are joined by relatives from northern Europe who spend winter with us. There are around four million breeding pairs in Britain and our numbers climb to over 15 million during winter. There's an estimated 30 to 40 million pairs worldwide, mostly inhabiting Europe, and consequently we are not a conservation concern. You don't find us in the Americas.
We have lots of cousins that live alongside us in Britain, such as the great tit. These relatives have a glossy black head with white cheeks and yellow underparts. There is also the slightly smaller coal tit, with a distinctive grey back, black cap and bib and off-white underparts, and there are marsh tits, crested tits, long-tailed tits and willow tits found in their preferred habitat. None are seen in North America where a separate family of titmouse flourishes, giving American birdwatchers a chance to add new species to their life-list during a visit to Europe.
We love to nest in tree holes and walls and in artificial nesting boxes. Large clutches of eggs are not unusual, with a typical number of 7 to 13 laid. My partner is responsible for incubation but I feed her on the nest. If you annoy us, we raise the crest on our head and warn each other with an alarm-call. There is also a song we sing made up of a high-pitched repetitive tone that ends with a trill. This I use during winter and spring to protect my territory and attract a mate.
You might wonder about the surname "tit" in the name blue tit and imagine that the early Americans called birds over there that look like us as chickadees because of their puritanical desire not to name a bird after a woman's breasts. Titmouse was used in a few cases but with "tit" translated as small and "mouse" derived from the Anglo-Saxon "mase" meaning "a kind of bird".  In fact in Britain we were given that name long before 1928 when this part of a woman's anatomy became known as tits, originating  from the word teat and nursery titties. Since then, the term has developed into sexual slang. Call us what you will, from "primavera" as the Maltese name us, to "blue bonnets" in Scotland. In Northumberland, our ancestors were named "biting toms", apparently because of the sitting birds propensity to bite the fingers of the boys who wanted to collect their eggs.
---
---